Last Updated on February 18, 2023
Every experienced woodworker knows opening holes in wood is not that easy. While it may demand less effort than making holes on concrete, it is still challenging, especially if you're a beginner.
That's why it is often necessary to have the best drill bits for wood if you want those holes to be perfect. Otherwise, the results won't be ideal, often mediocre.
But don't worry. We want to help you out with that. Whether you are a woodworker with some experience, a beginner, or just someone trying to make a hole in a piece of wood – then you'll find the perfect guide here.
We will show you every single piece of info you need to know to choose the right drill for wood. And you'll learn more about the different high-quality options available out there.
So don't waste more of your time and start drilling those holes now! But first, keep reading to do it well-prepared!

Best Drill Bits for Wood – Comparison
Types of Drill Bits for Wood 
Drill bits are an essential tool used for creating precise, accurate, and smooth holes in wood, plastic, metal, or wall. As with its wide use, it also has lots of variants, that have specific uses. Having a proper idea of each type of drill bit could be helpful for any DIYers and Pros!  
That is why, below, we have generated a list of all types of drill bits for woodworking.  
Twist drill bit: Twist drill bits are the most popular drill bits, made from HS Steel, suitable for wood, metal, and plastics. Mostly, it can cost you $7 to 25$, depending on the number of bits. 

 

Bardpoint drill bit: This type of drill bit is capable of providing precision accuracy on any wooden surface like maple, cedar, oak, pine, ash, and many more. 

 
Spade bit: Spade drill bit features contoured paddles and full-cone threaded tips that ensure better speed, and provides rough finishing. 

 

Auger drill bit: Auger drill bit is designed with a spiral head, requires less pressure to pull the bit into the wood. The uses of this bit are creating fenceposts, ground lighting holes, umbrellas, and many more. 

 

Self-feeding bit: Self-feeding drill bit features double-cutting edges with deep gullets, making it ideal for plumbing and electrical applications. 

 

Countersink Bits: The countersink drill bit is highly capable of creating a countersink hole and pilot hole, ensuring better fitting for screws. 

 
Vastly, these are the most popular and use drill bits, pick one that is accordant to your projects.  
Best Drill Bits for Wood Reviews
It wasn't easy to find the drill bits that were worth considering for the article. Some were low-end to the point of being useless. Others didn't inspire much confidence. And a few of them were either poorly reviewed or totally unknown. But still, we found five that matched all our needs – here they are:

1. PORTER-CABLE Forstner Wood Drill Bit Set
Key Features
Optimized cutting angles
Creates a fine smooth finish
durability and long Lasting
We wouldn't have this list of reviews with any other option better than the Porter-Cable Forstner Bit Set. If you need the best drill bits for hardwood
,
then this is your best bet.
This happens because Forstner bits are ideal for opening holes with flat bottoms. And with their strong& reliable wood-breaking teeth, they can go through almost any type of wood fast and easy.
But sure enough, it is the flat-bottomed result that makes it so compelling. For those who are looking for a smooth finish in thick & stiff wood, there won't be a better option than one of these bits.
Another advantage of this set is that you get the most common sizes going from 1/4-inches up to 2-inches. That's enough to go through any piece of wood and deliver perfect flat-bottomed holes at any time.
Porter-Cable ensures that these bits last a lifetime, as well. You get hardened steel in each bit, which provides a long-lasting product overall. And sure enough, you can match them up with almost any drill.
You will also receive a hard-plastic case for practicality. This will be enough to get your wood holes ready at any time.

Pros
Perfect for opening flat-bottomed holes
Ideal for hardwoods and softwoods alike
Comes in all standard& useful sizes
High-quality hardened steel construction
Cons
May need some sharpening before being used
Not the most durable out there
---
2. IRWIN SpeedBor Max Wood Drilling Bits
Key Features
Wood drill bit set includes bits with three cutting spurs
Tapered tri-flute design
Full screw-point tip allows bit to self-feed
The SpeedBor is an almost perfect set of drilling bits for wood. Boasting the ideal shape and groove design plus the self-feeding tip – this bit set ensures the most efficient wood-drilling experience.
You will get 10 different spur bits in this set, going from 1/2-inch up to 1-1/4-inches. That's enough to get small and large projects done without problems.
But it is not the quantity that makes it so amazing, but the unique Blue-Groove design. It allows the bits to get superior strength and go through wood fast and smoothly.
Another super important part of these bits is the self-feeding tip. They will go through the wood without barely any force from your part. Each bit eats the wood so fast that you will be impressedwith the first use.
Apart from that, they are decently thick and well-designed. The bits come with a 1/4-inches quick-change shank that allows easy replacing but also extra durability with their thickness.You will get no less than amazing results with this Wood Drilling bits kit from IRWIN.

Pros
Ideal self-feeding tip for wood performance
Thick & durable shank for convenience
Outstanding Blue-Groove design cuts through wood smoothly
Complete set with enough bits for any operation
Cons
Not the sharpest edges or tips at first
The material could be far stronger
---
3. IRWIN Marples Forstner Wood Drilling Bits
Key Features
clean and precise flat-bottomed
Cutting angles maximize speed of cut
Designed for clean holes Diameters &Teeth designed
Coming back again to the largest type of bit you can get, the Marples set from Irwin delivers high-quality Forstner bits for any job.
If you're looking to drill flat-bottomed holes on the hardest or softest surfaces, you'll find no better bits to do so than these. They are utterly well-made and come with the perfect 3/4-inches diameter for large drillings.
You will also get all kinds of sizes, going from 1/4-inches to 1-3/8-inches Forstner bits for any job. And with the shank sizes going from 1-1/2-inches to 2-inches, you can pair them up with almost any drill.
The construction is also fantastic with carbon steel, which ensures outstanding durability & cutting capacity. Add up the cutting angles, and they will go through any wood in the smoothest of ways.
Whether you're building cabinets, making small holes as decorations, or creating tables – this set will come like a gem for you. No matter the wood-drilling job, you will get outstanding results every time.

Pros
Superb carbon-steel build for durability
Ideal size options for any job
Excellent shank sizes for drill compatibility
Super practical carrying case
Cons
They may arrive with dull tips
Can be challenging to go through hardwood with these bits
---
4. Greenlee D'VersiBIT Auger Wood Drill Bit
Key Features
Wood-type auger bit with screw point
long flexible spring steel shaft
D'VersiBIT System makes easily accomplish even complex installations
For those who want an auger bit for the largest holes in any type of wood – the Greenlee D'VersiBIT will be the ideal choice. Its capacity to break through without walking or skidding provides super smooth holes is something you don't get very often.
You can use it on soft or hardwoods without problems, and it works well enough for thin pieces if needed. Even retrieving the drill from the wood once the hole is ready won't be a problem with a slow–back taper design.
Apart from all that, it comes with a bending capacity. You can make it work for the hardest of installations, and it won't let you down.
Whether you are a professional or beginner, this bit set will deliver precisely what you need. It offers different sizes going from 3/16-inches up to 1-inch in diameter, so any operation is a total possibility.In short, it comes with every single feature that makes it an outstanding auger bit to pick.

Pros
Unique slow-back taper design for easy retrieval
Produces large & smooth holes with its auger design
Comes in most common auger sizes
The shaft bends for extra versatility
Cons
Huge design makes it a little awkward to use
Not the most durable of materials
---
5. IRWIN SPEEDBOR Auger Wood Drill Bit Set
Key Features
Fastest Speebor spade bit ever
Full screw tip allows bit to self feed
Tri-Flute design
If we needed a set of bits urgently, we wouldn't think twice before getting the SpeedBor Spade Bit from Irwin.The name comes directly from their spade or teeth, ideal for getting a super smooth drilling process. You won't feel how the bit goes straight through the wood.
This also comes from the Tri-Flute design that makes sure every chip gets ejected right out every time. That prevents the bits from getting stuck or providing dirty results.
Apart from that, they boast a self-feeding tip. It goes well through any type of wood without problems. And with the 3 cutting edges on the spurs, they last a lot of time while ensuring top-notch drilling almost always.
Sure enough, you will also get a grooved hex shank. It promotes easy installation and fixes well with Lock-N-Load Quick-Change Adapters and several impact drills. In short, there's nothing about this set of bits not to like. And you'll still get several sizes to make it even better.
Pros
Fantastic Speedbor spade goes through wood like butter
The self-feeding tip provides outstanding results
Handy Tri-Flute edges prevent bits from getting stuck
Comes in several sizes and a carrying case for convenience
Cons
Need to be used with potent drills to work well
May get clogged or stuck if not used in straight angles
---
6.   Neiko 11401A Stubby Drill Bit Set for Wood
Key Features
Fastest Speebor spade bit ever
Full screw tip allows bit to self feed
Tri-Flute design
Wood drilling demands extreme accuracy. And you would require drill bits that can not only rotate faster but also are precise for that operation. Well, in that case, these ones that are from Neiko can be an excellent choice.
Unlike some of the bits that are out in the market, these bits feature heavy-duty steel construction. Because of that, they will be able to go through the toughest wooden workpieces without any issues at all.
The bits also feature a brad tip design. This design allows them to go through a specific point without moving. That means you will be able to precisely drill holes in your wooden workpieces with these.
Other than that, the set comes included with six different drill bits. The sizes are from 3/32 inches to 3/8 inches. Each of them is 2.3 inches in length, which makes it easier to drill in hard to reach spaces.

Pros
Comes in a set of six
Each of the bits is 2.3 inches in length
Features a heavy-duty steel construction
Sports a brad tip design
Offers excellent amount of accuracy
Cons
Included bit holder can not hold all the bits properly
Tends to catch rust quite easily
Related: 10 Best drill bit sharpeners – The Complete Buying Guide
---
How to Choose the Best Drill Bits for Wood? [Buying Guide]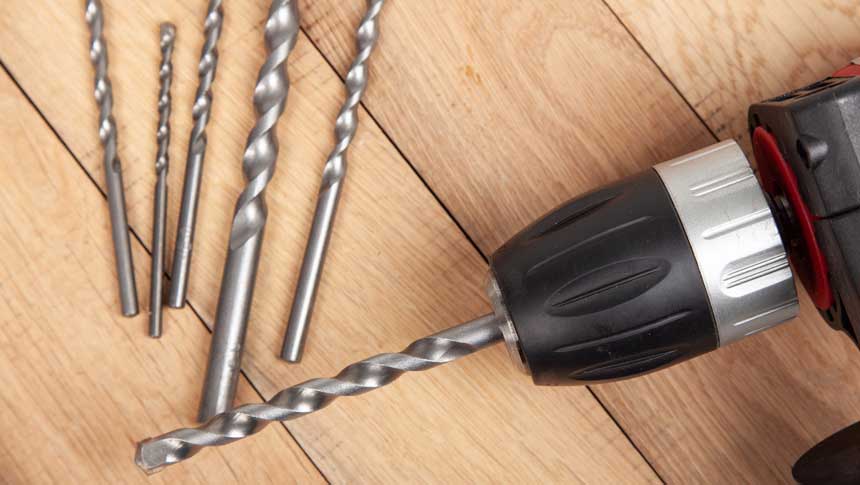 After going through our best wood drill bits review, you're probably wondering which option is the best one. Well, to know that you will first need to know which factors to consider. Here's a list of things to think about before buying:
Types
The first factor to look for is types of bits. Even though these are all drilling bits, they will have different designs, shapes, and builds that work for different purposes. Here are the various types you may find the ideal for wood:
Twist
Twist bits are the most popular of all bits because they work for almost any kind of material. The twist shape focuses on drilling small holes, so you're not likely to find large twist models out there.
Countersink
A countersink bit comes with a less sharp tip. This tip will help to open soft materials such as plastic or the most delicate woods out there. The best use for these bits is making boreholes for screws.
Auger
Whenever you need to drill long and wide holes in wood, then you use an auger bit. It is ideal because it removes wood effectively. And you can use it in soft or hardwoods without problems.
Flat Wood
For moments where you already have a hole and need to flatten up the bottom, you need to use a flat wood bit. It will offer a decent experience at creating flat bottoms in softwoods and for drilling if you need it.
Forstner
In case a flat-wood bit is too fragile or just doesn't match your drilling needs, then you can always use a Forstner. It also helps to make flat-bottomed holes, but this one can indeed drill from the surface down on any type of wood.
Hole Saw
In case you only need to make wide holes with not much depth, then you can use a Hole saw. You can get a lot done with one of these – especially in thin pieces of wood where you need something more fragile Spur.
This is a combination between a Forstner and a spur bit. They are ideal for those mid-size holes that need to be as clean & precise as possible.
Materials
Then, you need to consider the materials of the bits. This will let you know whether the bits are durable or not. Here are some materials to consider:
Carbon Steel
They offer decent durability and resilience. A carbon steel bit will not wear off or bend as easily as others. And what's even better, they hold the sharpness amazingly well.
HSS or High-Speed Steel
These are less durable than carbon steel bits but more heat-resistant. That means they don't have the same anti-breaking capacity but will work for a long time without losing sharpness.
Coatings
Coatings are also super important to consider. They will let you know how much longer the sharpness will last and how well they will stand wear. Here are the different types of coatings:
Titanium Nitride
This is a type of coating that you must consider at all times. It is a hard ceramic material that improves the durability of the bit exponentially.
Black Oxide
This is the most affordable and popular option out there. Black oxide delivers excellent lubrication to improve smoothness when drilling. It will also prevent corrosion and enhance the durability of bits.
Diamond Powder
This is the highest-quality type of coating you can get. It improves durability and prevents wear. But it is utterly expensive in comparison with the other two.
Type of Materials for Making the Woodworking Drill Bits 
Drill bits come from different types of materials and each one offers unique features and is used for different purposes. It is important to know the uses of each material and its features.  
Hence, below we have provided a clear concept of the materials of drill bits that will help you choose the accordant drill bit for your projects.  
HSS drill bits: The HSS refers to High-speed steel, is highly heat-resistant and hardwearing, contains chrome and nickel that ensures more durability and superiority. This type of drill bit is used for softwood, hardwood, PVC, steel, and fiberglass. 

 

Carbon steel drill bits: Carbon steel drill bits are basically used for drilling wood, not enough extrude to drill metal as it has less durability than HSS drill bits. Still, it offers better rust and corrosion resistance than other drill bits. 

 
Cobalt steel drill bits: Cobalt steel drill bits are made combined with high-speed steel and 5-8% cobalt, ensuring better sturdiness and accuracy than HSS drill bits. It can cut through most hardened materials like stainless steel, titanium, cast iron, and many more. 

 

Tungsten carbide: These drill bits are made from tungsten carbide material offers better durability, longevity, stability, and sturdiness than all other drill bits. Basically, it is used for industrial purposes projects, and cost more than other drill bits. 

 
All of the drill bits are generally made from these materials. Choose wisely, that can provide you hassle-free operation!
Frequently Asked Questions
Now that you are familiar with the best woodworking drill bits and how to pick them, let's go a step further into more specific questions:
Q: What is the shank of the bit?
A: The shank refers to the part that sticks inside the drill. It is essential to consider because it tells you whether the bit fits with your drill or not.
Q: What size of drill bits do I need?
A: It depends on your needs in length and diameter. If you need to open wide holes, then go for those with the most diameters (auger, Forstner, flat-wood). But if you need to make long holes, then use the largest models (twist, spur, countersink).
Q: How much time does a drill bit last?
A: This depends heavily on the amount of use it gets. For bits that are used several times a week, they may last between 1 to 6 months. But for those that are used every few months, you can get years out of them.
Q: Can I sharpen the tip of a drill bit?
A: In case your drill bit starts to lose sharpness on the tips and edges, then you can always sharpen them up. However, this is often a short-time fix as they will probably begin to wear off again soon.
Q: Can drill bits corrode or rust over time?
A: Yes, just like any other metal, they can corrode. You can prevent this by using high-quality metals.
Q: Who makes the best drill bits?
A: The good thing is, the monopoly doesn't exist here. You will find a few brands like Bosch, Milwaukee, Makita, Dewalt, and Irwin; who are making drill bits with their reputations. You can trust their products any day and anytime.  
Q: What determines the type of bits that I should use?
A: It depends on your projects, as if you are going to drill softwoods or hardwood then HSS and carbon steel drill bits are enough. But if you need to drill metal or fiberglass, you should go for Cobalt steel drill bits.  
Q: What type of drill bits are best for wood?
A: For wood drilling, HSS drill bits are quite powerful. You can pick one HSS drill bit for any kind of wood drilling project.  
Q: Which Materials would assure you of the strongest drill bits?
A: The Tungsten carbide drill bits are the strongest drill bit that you can find in today's market. It offers better longevity, sturdiness, and doesn't get dull more easily than other drill bits.  
Q: How do I tell that may drill bits are superbly durable?
A: You can say that only if you have a tungsten carbide drill bit, as this type of drill bit is the most durable and superb in build quality. 
So, What Should You Buy
As you can see, there are so many options to pick from, but getting the best drill bits for wood won't be an easy choice. But don't worry – we'll help you with that.
Our first ideal choice would be the DEWALT D W1177 Black Oxide Drill Bit Set. Each bit on this set is of fantastic quality with the steel build and black oxide coating. And it is super cheap.
Otherwise, we would easily choose the IRWIN SPEEDBOR Drill Bit Set. It comes with superb auger bits, but that's exactly the perfect type of wood-drilling bit you need.
So, which one will you choose? Make sure it is something that matches your needs. But also, don't forget about the other options. They're all worth it.
More Buying Guides: